Having privacy in your home provides peace of mind and feelings of safety and security. ODL's new stylized doorglass collection, Lightscapes, boosts the style of an entryway and natural light in the home without sacrificing on all-important privacy. In this article, we'll take a look at a quick showcase of the sophisticated, playful, and style-adaptable designs in the collection, as well as share some other ways you can take action to improve the privacy in your home.
The Importance of Privacy in the Home
Privacy can be defined as freedom from observation, attention, or scrutiny. At home, that means we are free from the view of neighbors, people walking by, and even those who have malicious intent like burglars. Privacy is important to maintain as it allows us to live our personal lives without unnecessary interference or exposure to potential embarrassment or danger.
When we don't feel secure at home, it can make us stressed and anxious as well as present real security risks that could be dangerous. It also can make us nervous if we feel like neighbors are able to peer in our windows or look into your backyard. Having privacy provides peace of mind and helps us enjoy tranquil living in our homes without apprehension.
Privacy Risk Areas
The areas that are the highest privacy risks in your home tend to be doorways and windows. While we all love natural light, it can be difficult to allow natural light into our homes while maintaining privacy. That's why it's important to have the right glass or window treatments in order to have control over the privacy in your home.
Privacy can also be at risk when you have close neighbors who can look into your yards or hear what you say when having private conversations in the home. That puts other areas of your home at potential risk without the right mitigation strategy to address privacy concerns. By understanding what areas of your home present a privacy risk, you can work on fixing those areas to ensure you enjoy home living and stay safe.
Lightscapes Doorglass Collection
One of the best ways to maintain privacy in your home while still being able to enjoy natural light comes from decorative privacy glass. Our new Lightscapes collection uses patterned glass to brighten your entryway while still obscuring views into the house. The designs were also thoughtfully created to complement the look of any home and boost curb appeal. Let's meet them:
Blanca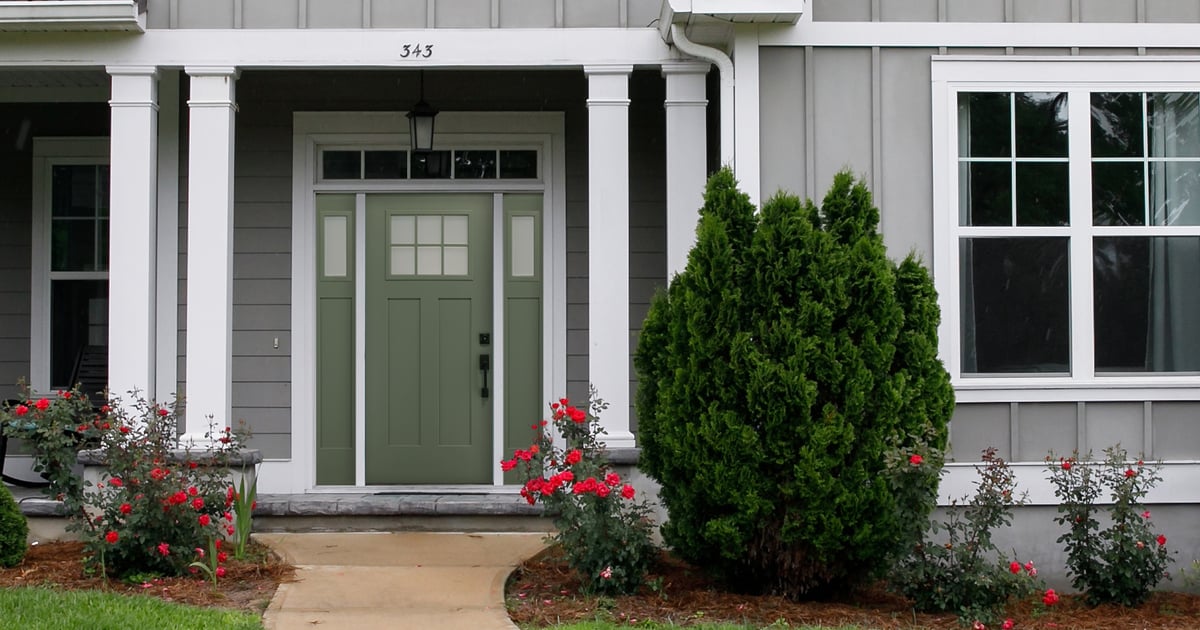 The most versatile design in the Lightscapes collection is also the one that offers the highest level of privacy protection. Blanca's frosted look is created using a silkscreen treatment.
Ditto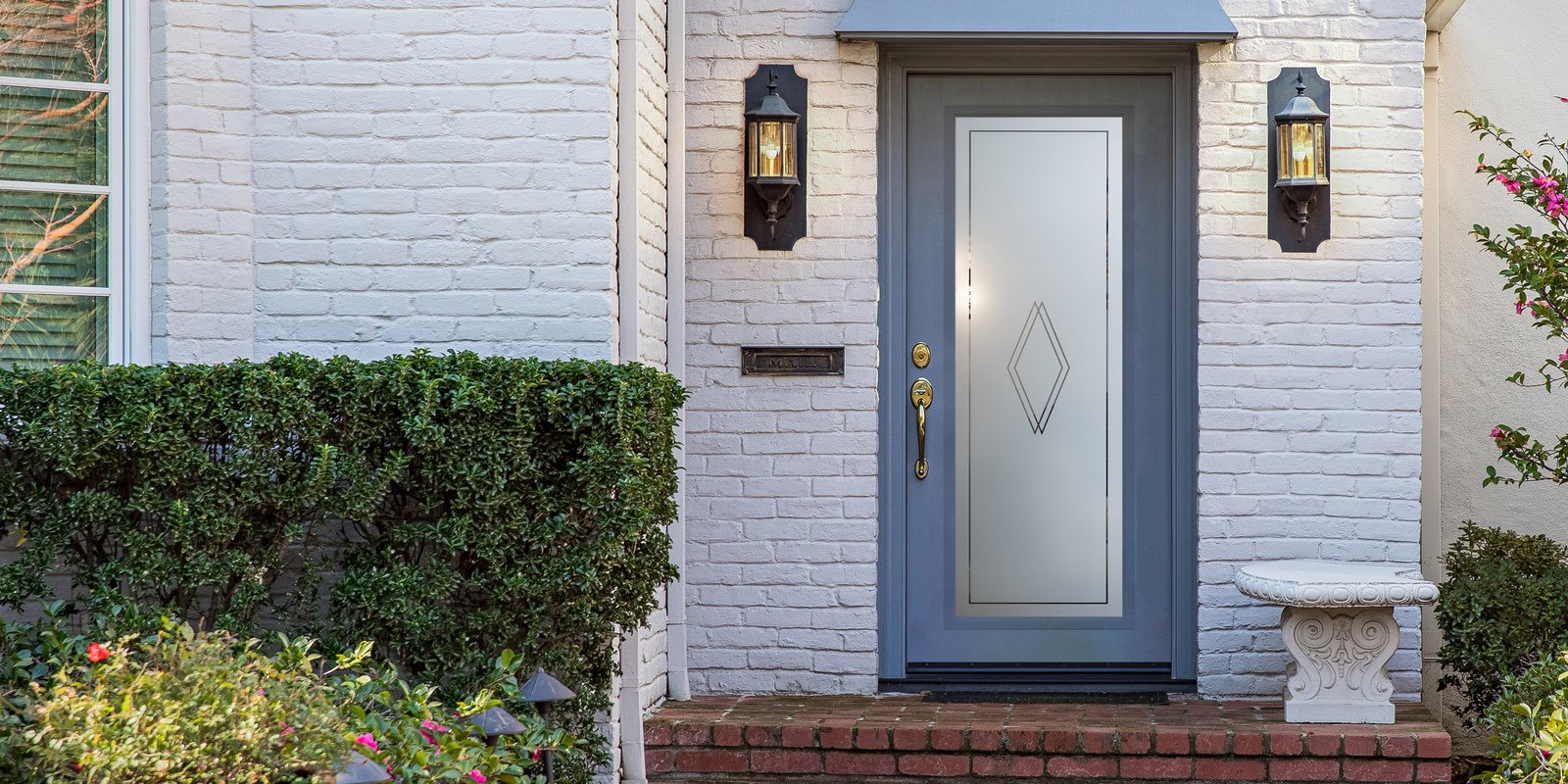 The double diamond pattern in Ditto looks right at home in traditional, transitional, and contemporary homes alike, the crisp silkscreen design adding an additional dimension to the frosted glass look.
Linen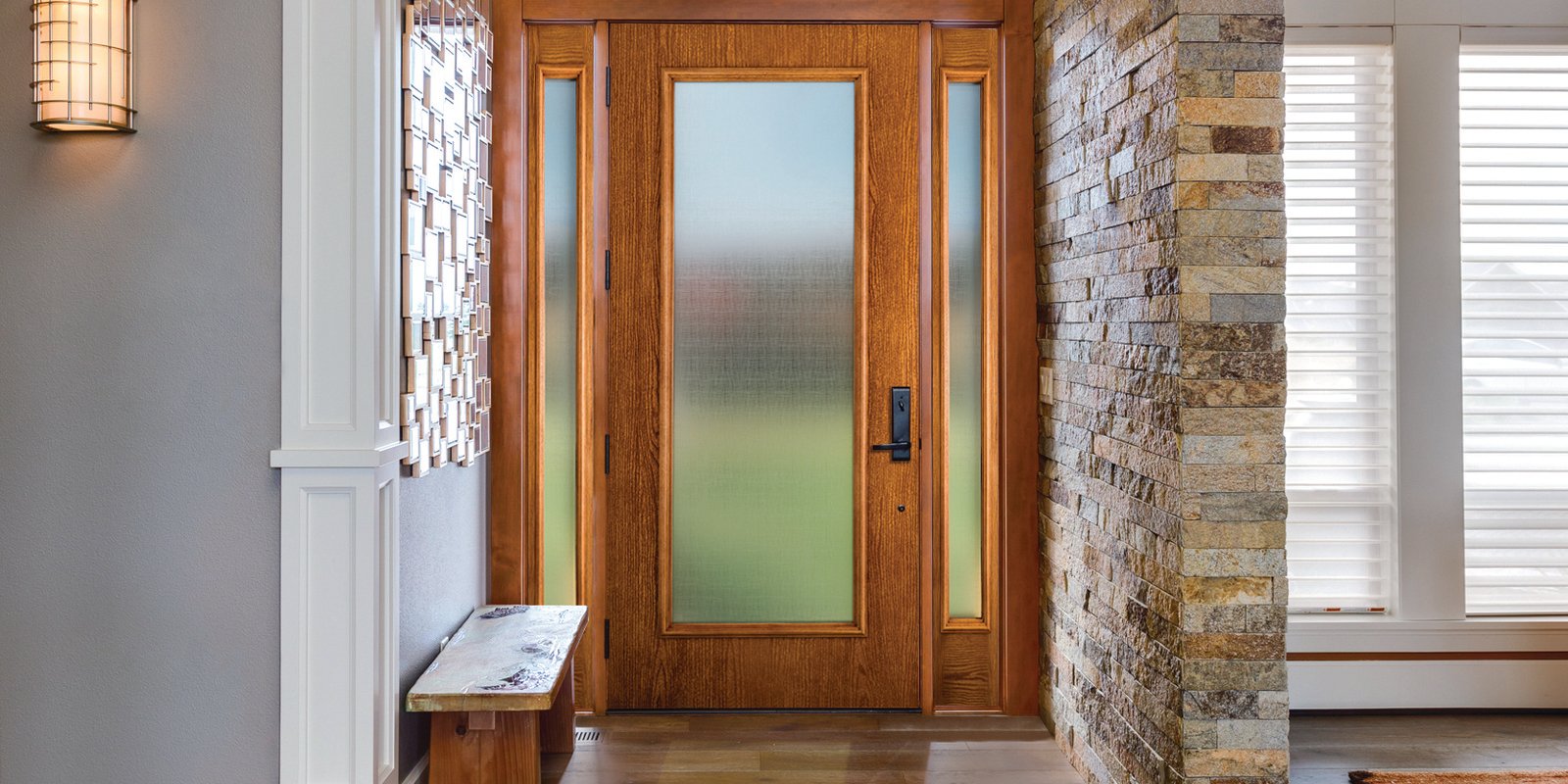 Linen is an etched design that mimics the woven pattern of a bolt of cloth, boosting the visual interest and uniqueness of an entryway without sacrificing on privacy.
Swirl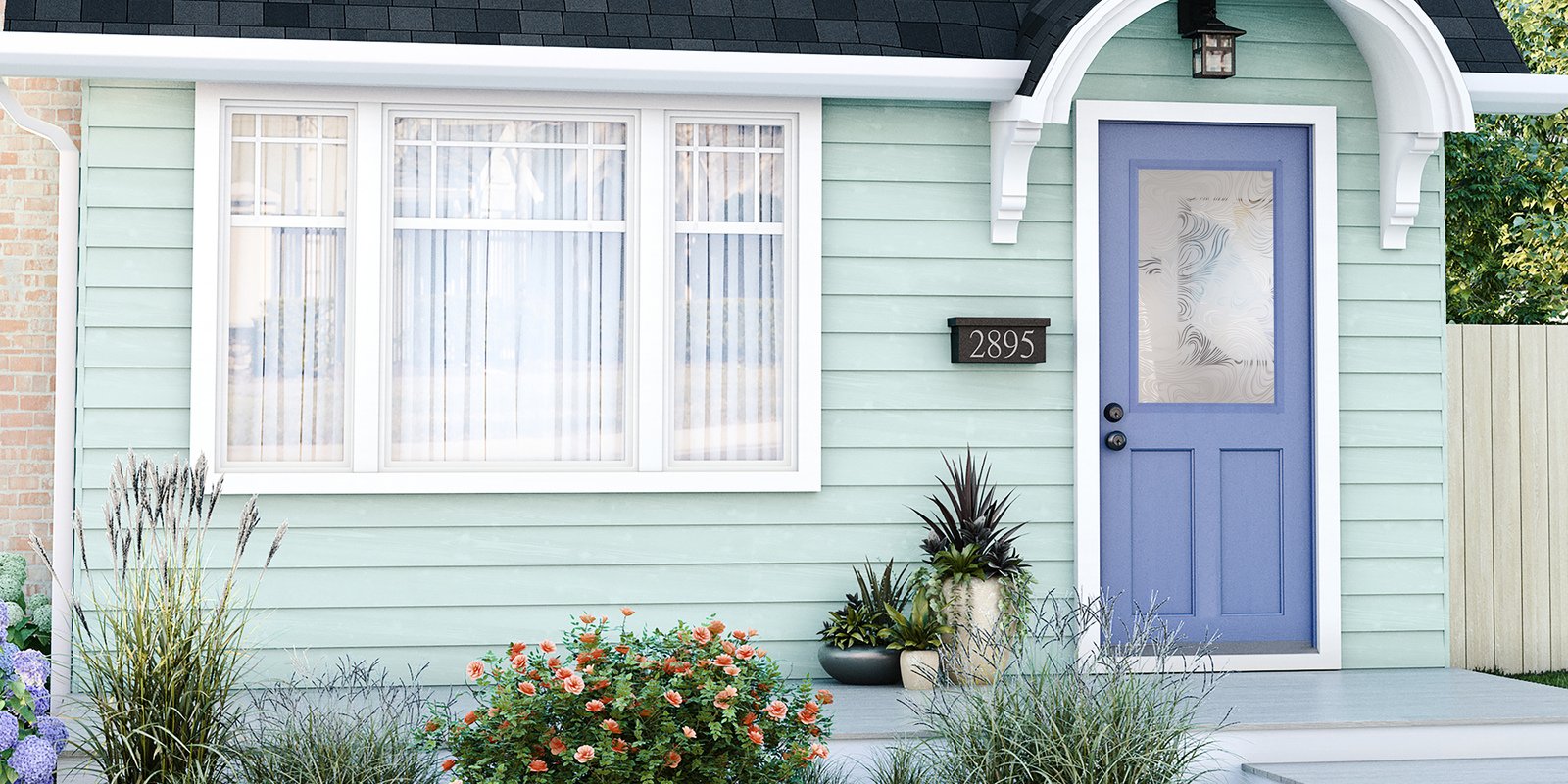 Swirl is another etched design in the Lightscapes collection, but provides a stark contrast to Linen's fine, straight lines. Its swoops and whirls add a sense of organic movement to a door.
Timber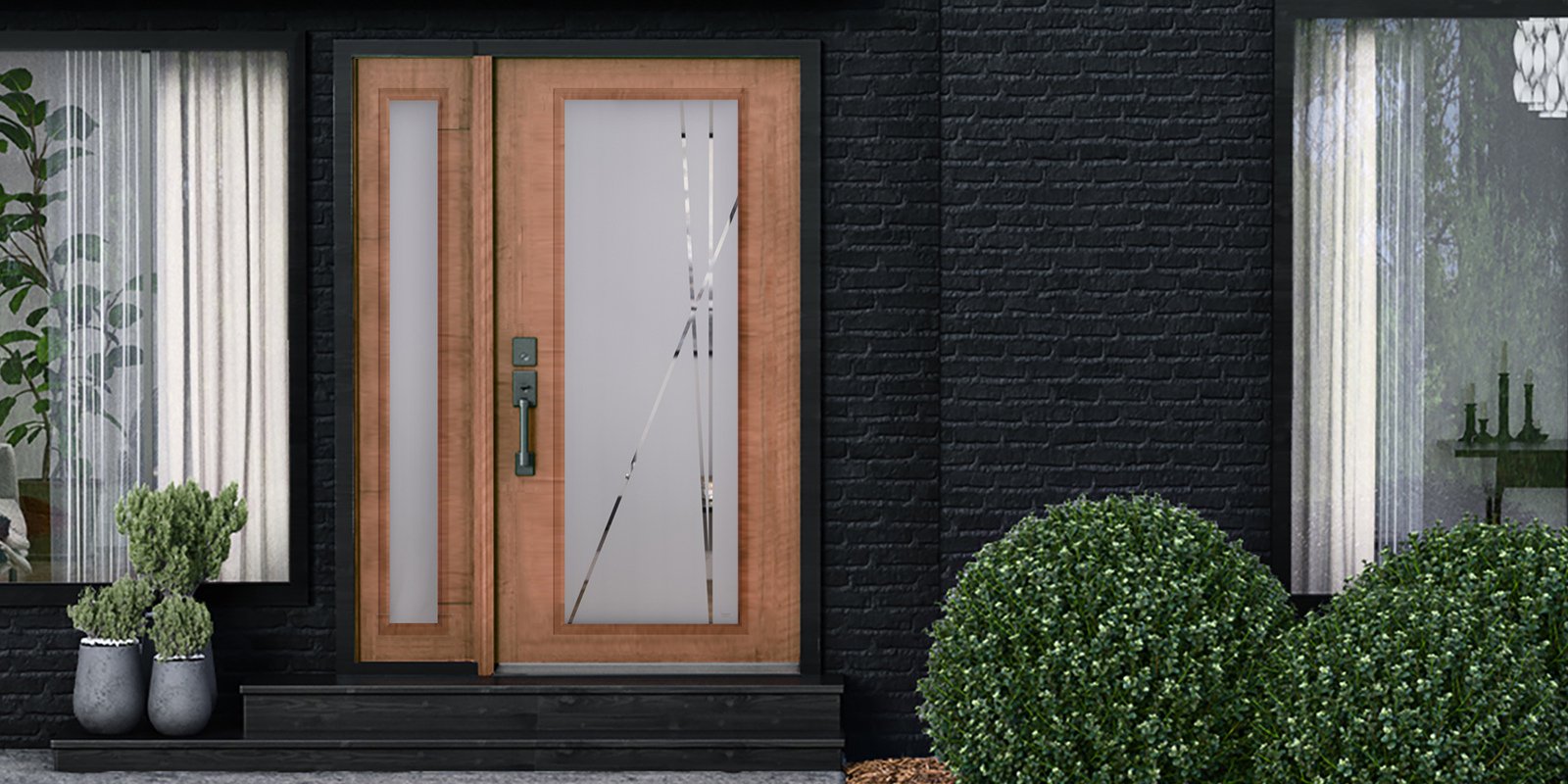 Call it minimalism or sophistication, but Timber has 'it' in spades. This high-privacy silkscreen design adds additional flair with three thin clear lines.
6 Other Ways to Improve Privacy in Your House
Of course, privacy goes beyond your entry door. Here are a few other ways in other areas that you can protect visibility into your home without compromising on design.
Backyard Landscaping
Having outdoor space is a great benefit of homeownership, but sometimes it can feel like our neighbors are too close. Even if you have good relationships with the people who live near you, it's still important to feel secure at home and know you can have private engagementents without people listening in. Landscaping elements like hedges, trees, bushes, and gardens can help create a barrier between your property and adjacent properties, allowing you to have more outdoor privacy.
Curtains and Window Treatments
Blinds and curtains are another important aspect to having privacy at home. There is a wide variety of options for curtains, from sheer fabric to heavy blackout treatments that completely eliminate light. Other solutions like Blink Blinds + Glass and venetian blinds give you the opportunity to change the amount and angle of incoming natural light during the day to create a balance between natural light and privacy.
Fences
There is truth to the saying that good fences make good neighbors. Fences create a clear border between your home and the surrounding property, which can create a strong sense of security and privacy. Not only do fences block the views to your backyards, but they can also help obfuscate the view into your home when you have windows or doors open.
Patios and Pergolas
Patios, pergolas, and other outdoor features can help create a distraction from your home and draw the attention of any wandering eyes away from your window. Not only are these features great to enjoy yourself, they increase the value of your home and provide blockage between your house and any nearby properties. That further emphasizes the separation of your outdoor space and your private interior living area.
Security Cameras
Security cameras are becoming more and more common within homes. Security cameras installed to the exterior of your home can alert you to visitors or let you know if someone is approaching the house unexpectedly. They can work as deterrents against crime and help you protect your home and your property. Many modern security cameras also have smart features which can help you monitor your home even when you are away.
Soundproofing
No one likes being woken up by the sound of a neighbor doing chores or being kept up late by music or a television next door. Soundproofing helps contain your own sounds and keep out sounds you would rather not hear. Different insulation can help soundproof your home, along with using high-quality building products that tighten openings and seal up cracks.
We hope we've helped to dispel some of the idea that privacy and natural light in a home are mutually exclusive. With the right design choices and technology, you can enjoy a sense of security and love your surroundings at the same time.