Decorative glass allows people to keep their homes private while still creating beautiful and unique front door displays. One way of doing this while adding in more specialized elements and patterns is with leaded or camed glass. In this article we'll talk about what leaded glass is and how it can help add privacy to your home while providing beauty and interest to your front door.
What is Leaded Glass?
Leaded glass is a special type of glass design that allows you to combine different patterns and glass types in a unique way. Leaded glass is created when multiple pieces of glass are combined into patterns and connected with caming, which is the connective material that holds the pieces of glass together to create the patterns.
Leaded glass designs add elements of character and elegance to a home. By using multiple glass pieces to create a pattern with strong lines instead of adding effects onto plain glass, leaded glass stands out from other types of decorative privacy glass.
The Evolution of Caming

Caming is a term used to describe the connective material between pieces of leaded glass. Traditionally, caming is created by soldering together metals, including lead. However, today's camed glass uses H-shaped pieces of aluminum, a much more cost-effective solution without the health concerns of lead to create "leaded" glass patterns and designs and is used in most decorative doorglass manufacturing today.
Leaded Glass vs. Stained Glass
Leaded glass and stained glass are often confused by homeowners and those interested in learning more about glass types and designs. While both leaded glass and stained glass are smaller pieces of glass held together with caming, leaded glass is a broader umbrella term while stained glass is a type of leaded glass.
Stained glass is leaded glass with colored glass pieces that create an image or pattern. Leaded glass may or may not have color added to it and it rarely depicts an image, instead representing visually-pleasing patterns and designs. However, because stained glass is a type of leaded glass, and one that is highly artistic, its influences can be seen in doorglass designs to this day.
Finally, and to make things even more confusing, ODL and other decorative doorglass manufacturers prefer to use the term "camed glass," as lead is no longer used to create these designs.
Camed Glass and Home Privacy
Camed glass is a great option for people who want to have some privacy in their homes while still enjoying the benefits of doorglass, such as natural light and beautiful, decorative design.
The Value of Home Privacy
Privacy in a home is a much sought-after feature, as it can help you and your family feel more safe and secure while at home. It's nice to know that passersby and strangers can't look at your door and see inside. Decorative glass that is designed with privacy in mind is a popular option for doorglass over plain, completely transparent glass like a window will traditionally have.
Building privacy into a home is also important for building equity. Homes that have privacy features like decorative doorglass appeal more to buyers who have the same values of safety and privacy.
How Camed Glass Improves Home Privacy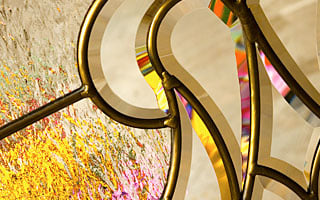 Camed glass is a great solution for homeowners who want to improve the privacy of their homes while still having visually interesting and unique front entrances. The small pieces of glass combined with caming breaks up the panel and makes it harder to see through clearly, and the types of glass that can be used in the patterns can include textures, color or other treatments that make it harder to see what's on the other side.
Camed Decorative Glass at ODL
At ODL, we offer leaded glass options like our Dorian design to help homeowners enjoy the beauty and benefits of leaded glass while improving their home privacy. Dorian's aluminum caming is lightweight and comes in both black and silver. The glass patterns that fit into the Dorian design come in a wide variety of colors, textures, and transparencies. Click on the link below to explore Dorian and learn more about leaded glass from ODL.