As the COVID-19 situation unfolds globally, a remarkable amount of change transpires each day. At ODL, we are not isolated from these changes and must adjust our standard business processes on a seemingly daily basis. Today, we need to make another adjustment.
Recently, we closed our North American facilities due to a combination of employee safety and government legislation. Since that decision, the Department of Homeland Security has issued additional guidance on the definition of essential. As a result, the construction industry has been largely deemed an essential service provider and our customers need our help. To that end, we are developing a voluntary workforce in some of our locations to meet limited needs. We expect to begin manufacturing in some North American plants early next week.
As we reopen manufacturing and distribution, the safety of our employees remains our top priority. During the closure, we've been able to adjust our facilities to accommodate the recommended safety precautions from the CDC and WHO. So, for those who choose to report, they can be assured that we have taken extreme steps to achieve optimum safety levels while at work.
Because this is a limited workforce, customers should expect lead time delays as we begin to ramp up production.
As always, we thank you for your continued patience and understanding.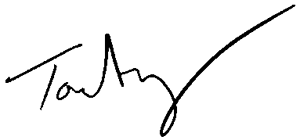 Townes A. Parsley
Senior Vice President