Your front door is the first impression that visitors will have when approaching your home. It's what welcomes people in and previews what architectural features and styles will be found within. That makes it an important feature of a new home build, as it can add interest and unique style that allows your home to stand out.
There are many different configurations of doors, glass, sidelights, transom windows, and other features that can be put together to make the entryway unequaled to anything else in the neighborhood. Let's look through five different door configuration options that will bring interest to the front entryway of your house and allow you to showcase your own personal style.
1. Front Door with Glass
The classic front door is just that: a front door without any additional glass or decorative elements like wood or metal panels. This configuration is great for homeowners who want to emphasize simplicity or have architectural styles like modern farmhouse or Craftsman.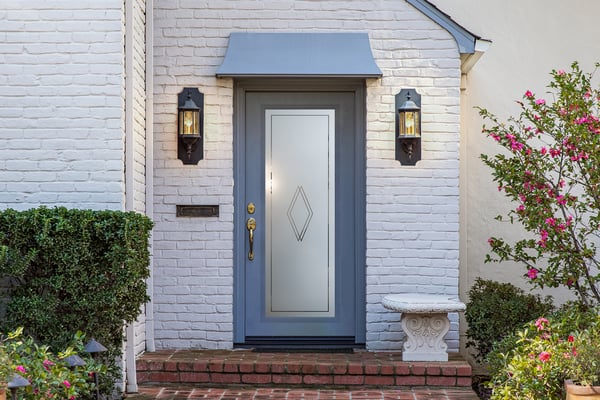 However, rather than having a plain door, you can add interest with decorative glass. There are many different styles of front door that have space for glass inserts. This will let your front door work like a window and allow natural light to flow into your home. The different patterns, colors, and styles of decorative glass help to create a unique and inviting entryway.
2. Double Entry Doors
Double entry doors make a statement. They require twice the space of a typical door entrance, which makes the entire configurement look striking and impressive. Double doors can be made out of virtually any door material, such as steel, wood, or even fiberglass. They work best in homes that are designed with more opulent architectural styles like European inspired designs and traditional homes.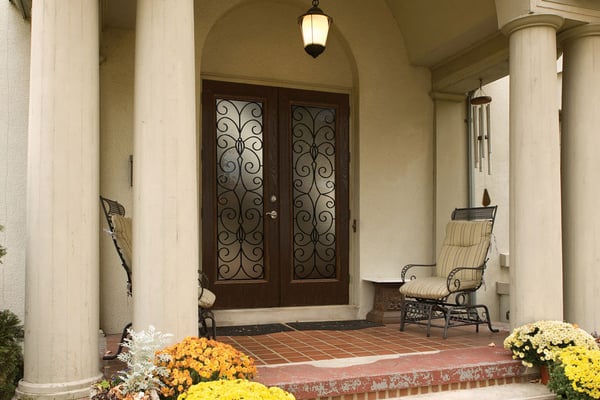 Single Door vs. Double Doors
Deciding on a single door or a double door depends on a few different factors, including the space available in your new build design and your home's architectural style. While single doors are less expensive and much more common to see, double doors make the entire entrance bigger which is great for moving bulky things and creating a grand entrance.
3. Front Door with Sidelights
Sidelights are panels of glass that go on the sides of a front door. They are typically tall and narrow, reaching the same height as the door itself. Sidelights allow for more light to come in the front entryway and can make a single door look much bigger. They add more curb appeal and come in a variety of styles that can either match the doorglass or accompany it.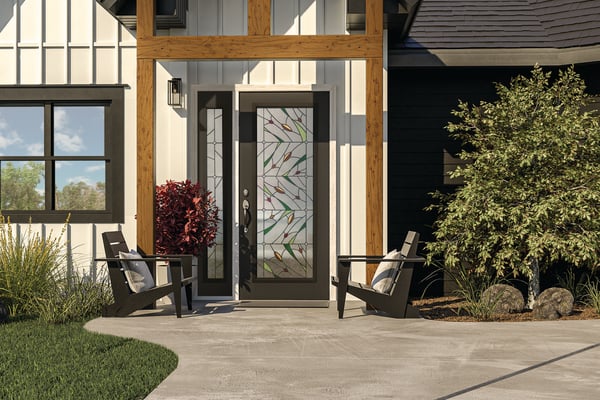 Single Left or Right Sidelights
While the most common sidelight configuration is two, one on either side of the door, you can also create a more unique configuration with just a single sidelight on either the left or right side of the door. This creates more appeal and fits very well into architectural styles like modern or contemporary where asymmetrical features play an important role.
4. Front Door with Sidelights and Transom Windows
Another style of door configuration uses both the sides of the door and the area above it to create interest. Transom windows go above the door frame and can make a front entrance look more luxurious and upscale by adding height to the doorway. Transom windows, like sidelights, allow for more light to enter a home while also ensuring that you maintain privacy.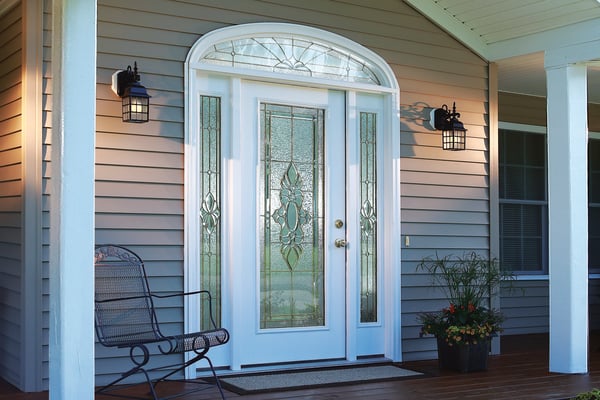 When sidelights and transom windows are combined, they surround a door with beautiful glass designs and make the entire front entrance more interesting and stylized. They can make even a modestly-sized entryway seem much bigger and more inviting.
5. Customized Decorative Doors
While there are some standard front entryway door configurations and arrangement, a new build gives you some extra room to create something that is truly one-of-a-kind. Customized decorative doors can be arched, tall, or come in other, less common door shapes. You can also add customized, decorative features like carvings, wood or metal panels, and combined materials.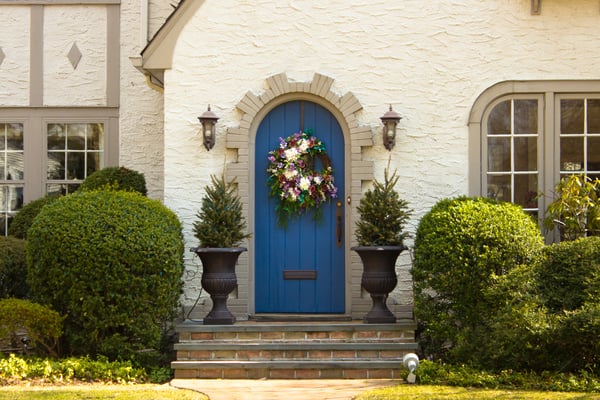 The glass in customized doors can also become a standout feature. Decorative privacy glass comes in a wide variety of colors and patterns that can help accentuate your customized entryway and create more visual interest.
Increase Home Value with Decorative Privacy Glass
The configuration of your front entryway is the first step in creating a unique first impression. The next step is picking the decorative glass that will go in the door, sidelights, and transom windows. Decorative glass uses patterns, color, and textures to create visual motifs. The right glass can easily become the focal point of your door, and decorative privacy glass also ensures that you never have to sacrifice privacy or safety. Find your perfect doorglass in our catalog: