The front entrance to your home is many things. It's a gathering place, a first impression, and an integral part of your home. It's the first place people go when coming to your home and the doorway through which you enter and exit every day. Many homeowners put a lot of value in their front entryways, and want them to be beautiful, functional, and unique. There are lots of different things that you can do to create a special space that stands out and makes a great impression. In this blog we'll cover some of the best improvements you can make to a front entryway that help you make your front door a unique, interesting, and welcoming space for visitors and your family.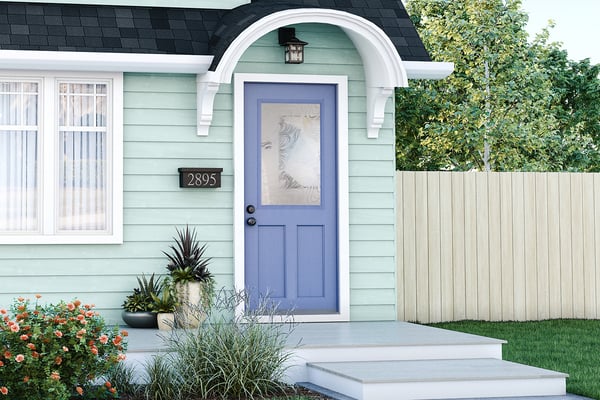 1. Paint Colors
Bright and bold paint colors are one of the best ways to stand out from other homes on the block. Selecting a stand-out color for your front door can help the front door make a bigger impression than if you kept it a more neutral color. Oranges, greens, yellows, and blues are all popular colors for homeowners who want to make their front doors pop.
You can also add color and interest with your door trim. Contrasting colors can help your door stand out even more, or make your front entryway look larger. You can even add your own trim as a DIY project to add more texture or interest along with your paint colors.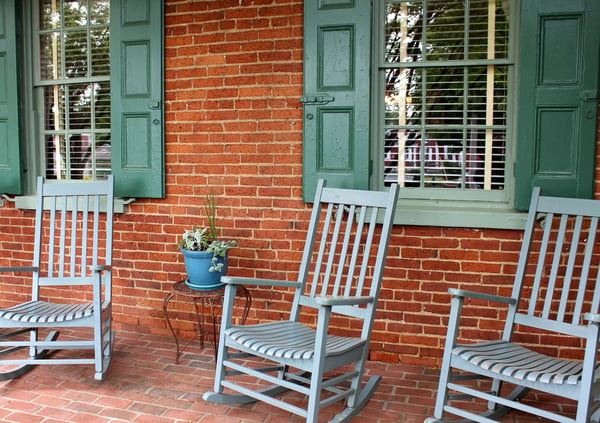 2. Seating and Furniture
While front entryways are often thought of as entrances and exits, they are also gathering and resting places, especially if you have a nice front porch. Having seating options and different pieces of furniture can help you create a welcoming environment that is an enjoyable hangout for you, your family, and your guests.
Adding different seating options like benches and rocking chairs can encourage people to enjoy the space. Decorative outdoor pillows and rugs can create warmth and coziness, and end tables or stands can give guests places to put mugs of coffee or glasses of lemonade. The seating and furniture options you choose can change an unused porch into a regular gathering area.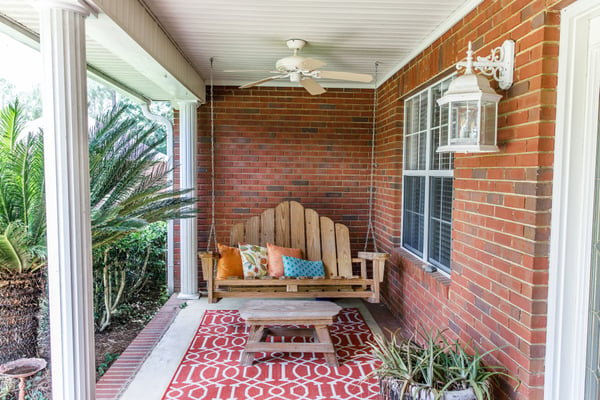 3. Lighting
Some homeowners don't think of their front porch lighting unless the light burns out. However, there are many different ways you can upgrade the lighting of your front door to make it brighter and allow it to stand out. Brighter bulbs or colored bulbs can create different atmospheres on your front entryway.
In addition, you can add new sconces that match the architecture and decor of your home to the entryway. Some homeowners even add chandeliers and overhead lighting to add a touch of elegance and upscale decor to their entryways.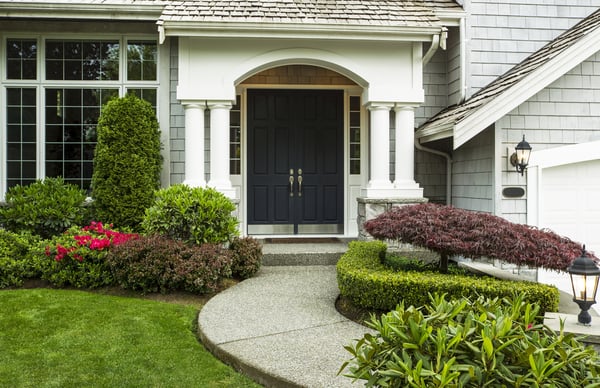 4. Hardware
The hardware and accessories you have on your front entryway is another way to add your own personal sense of style and taste to the front door. The color and design of the hardware helps emphasize different elements of your home. Gold, silver, bronze, and steel hardware can stand out against neutral colors and add interest to the entryway.
Aside from the handle and lock, there are many types of hardware accessories you can add to your front door. From the outside, consider house numbers that are large, bold, or in a different font than usual. Mail slots, knockers and kick plates can also make your door look unique. Just inside the door, you can add wall hooks for outerwear or decorative shelving for a convenient landing pad for mail and keys.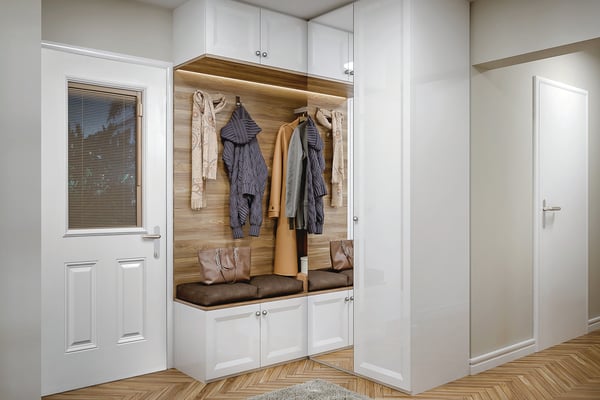 5. Storage
The front entrance of your home can also be a place for storage, particularly if you don't have a dedicated mudroom or area for front door storage inside your house. As mentioned above, you can use wall hooks to create a place for wet coats or umbrellas that you don't want to be brought inside.
Other storage options could be chests for coats and boots, shoe racks for your family footwear, and weatherproof cabinets where you can put outdoor or gardening equipment. Playing around with the style and design of the storage you pick can make it blend in seamlessly to the front entryway rather than standing out in an unappealing way.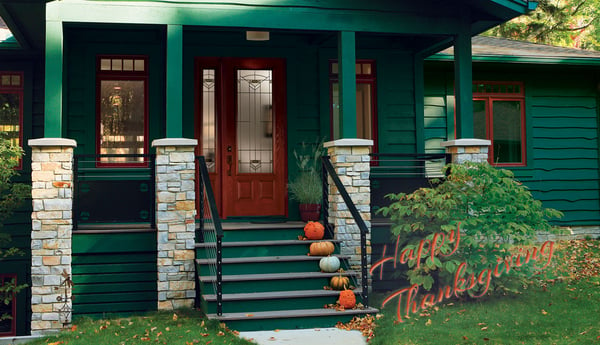 6. Decorations
The front entryway is a perfect place to add different decor items and seasonal decorations. While winter holiday lights might be the first thing that pops in your head, you can also add seasonal items for other seasons and holidays. Fresh flower boxes or hanging baskets work well for spring, while gourds and pumpkins fit in during the late summer and autumn months.
Other types of outdoor decorations that fit on the front porch include wreaths and welcome mats, which can also be switched out for different seasons. You might also want to consider more permanent pieces like statues, lanterns, or welcome signs.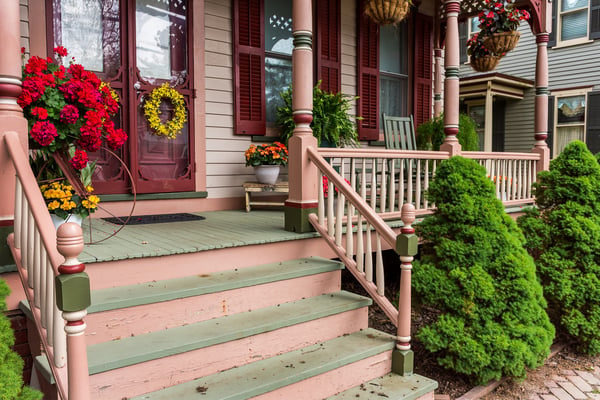 7. Greenery
Another way to make your front entrance unique is to add plenty of greenery and plants. Fresh flowers always make a good first impression, and you can rotate out planter baskets and boxes for perennial and annual plants. The planters and pots themselves can also be a way for you to express your designs and taste by picking out pieces that represent your home's style.
Vines, hanging plants, and flowers in a variety of colors can also help your front porch stand out. You can take some of the plants you have growing around other areas of your house and carry that environment up the stairs to the front door to create more cohesion and harmony between your landscaping and your home.
8. Doorglass
One final way to really make your front entryway stand out and be unique is the doorglass you use in the door. While the color you paint the door itself can make an impact, the doorglass is the jewel that creates a special, one-of-a-kind entrance.
The glass you pick can come in a variety of colors, textures, opacities, and patterns. You can match it to your other entryway decoration and furniture pieces or even pick doorglass that matches the architectural stylings of your home. Your doorglass can probably be seen from the curb and is one of the first things that a visitor to your home will see, so putting in the effort to make it unique helps to create an unforgettable first impression.
Browse beautiful entryways (with beautiful doorglass)
Our Inspiration Gallery showcases beautiful entryways across regions, architectural styles, and around the house, so if you're looking for more eye candy to get you excited about refreshing your entryway, check it out!