The front entrance of your home is one of the most viewed areas of your house. However, many homeowners aren't happy with the first impression they make. Front entrances can easily blend into the rest of the home instead of standing out, which reduces the amount of curb appeal you have and detracts from the natural beauty of your home. Thankfully, making that front entrance pop isn't hard to do. Let's take a look at 10 tips that can help your entryway stand out.
1. Add Some Color to the Front Door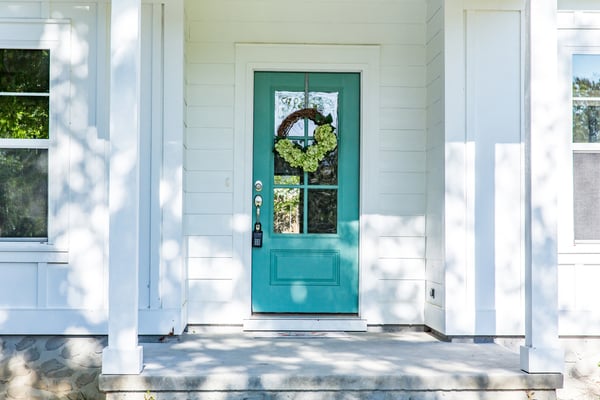 The front door is really the focal point of your front entryway. Adding some color to this feature can help your front entryway stand out and make a statement. And it doesn't cost more than a bucket of paint. You can add a contrasting color to the rest of your house to help it really pop, or you can add a complimentary color that seamlessly fits into the overall design of your home and creates a cohesive look.
2. Make Your House Numbers Stand Out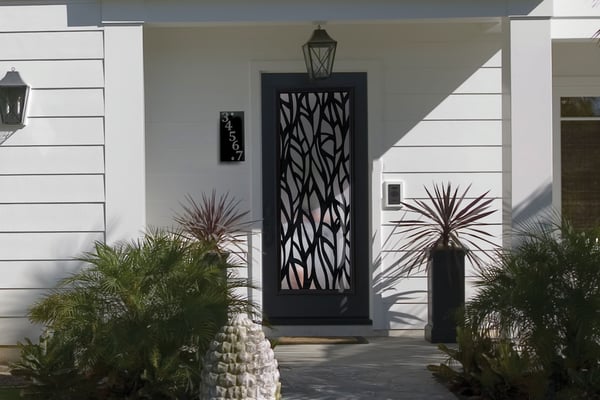 Having clear house numbers can do more than just help out the mailman—they can also become an interesting feature to your home. Things like having numbers written out in script, house numbers in bright colors or metal finishes, and even large numbers that take up quite a bit of space on your page can make a big impression. That way you can make your house identifying number and turn it into a decor feature.
3. Cover the Entryway with Outdoor Rugs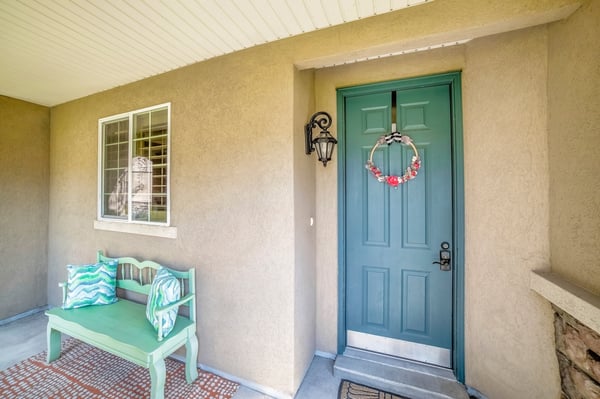 The walkway and floor of the front porch in your home are typically less cared for than some of the other areas. However, with the right accents they can become points of interest. Outdoor area rugs and runners can add some of your style and design to the exterior of your home while helping you stand out in the neighborhood. Outdoor accent rugs add more than a typical welcome mat, and make the entire home feel more cozy.
4. Landscape with the Entryway as the Focal Point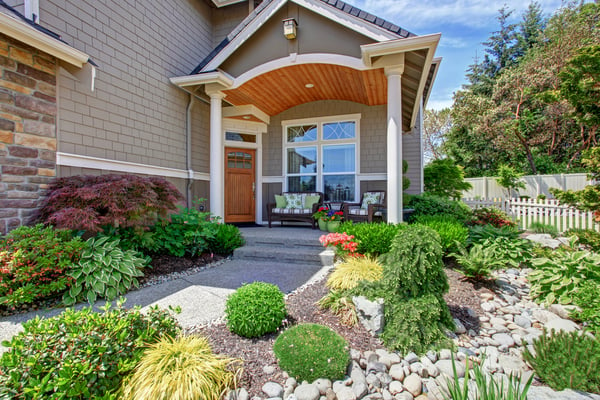 When we think of creating more interesting entryways, we typically only consider the porch. However, there is a lot that can be done in the front lawn that can help you make your front entrance stand out. Your landscaping can help emphasize the entryway when it is used as the focal point. Having hedges, flowers, and trees that leave the space towards your front door open allows visitors to clearly see your entryway.
5. Use Smart Lighting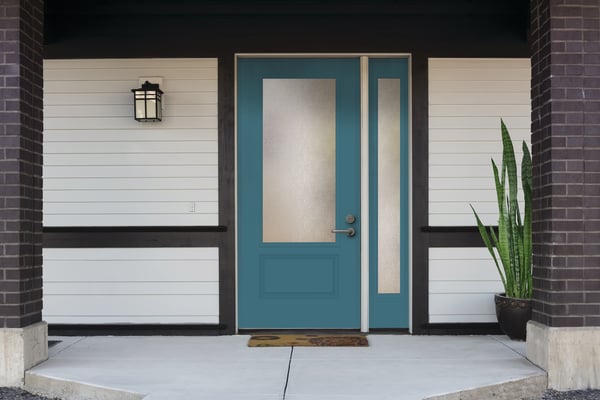 Front porch lights are also another unused part of the front porch that can add a lot of value to the front entryway of your home. Smart lighting can help highlight the great features of your front porch at night with automatic sensors and light sensitive triggers. You can also get different colored smart lighting for different holidays and events. Smart lighting can also help you avoid over usage of energy, which can save you money on your energy bills.
6. Paint Your Front Steps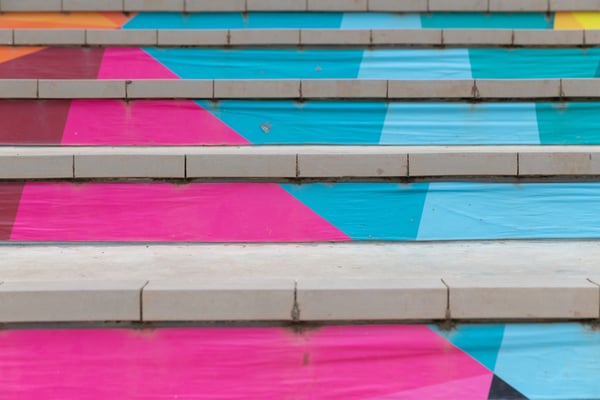 When adding pops of color to the front entrance, most people stop at just the front door since it is the way into the home. However, the front steps can also be an area to add some color. You can paint the back of the steps (known as the risers) the same color as your front door to add some consistent color, or even try painting a faux rug to help guide visitors up the stairs.
7. Create a Cozy Sitting Area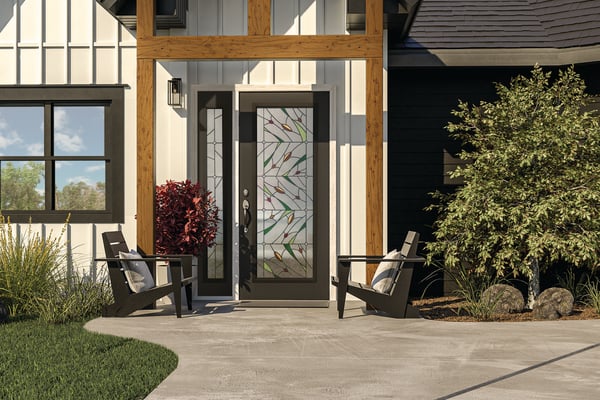 Having a rocking chair or porch swing is fairly standard for the front entryway, but you can also do more to add coziness and hominess to the front porch. Outdoor cushions can make chairs more comfortable and welcoming, and other furniture pieces like footstools, tables, and benches can make the front porch feel like an extension of the living room.
8. Decorate with Architecturally Appropriate Pieces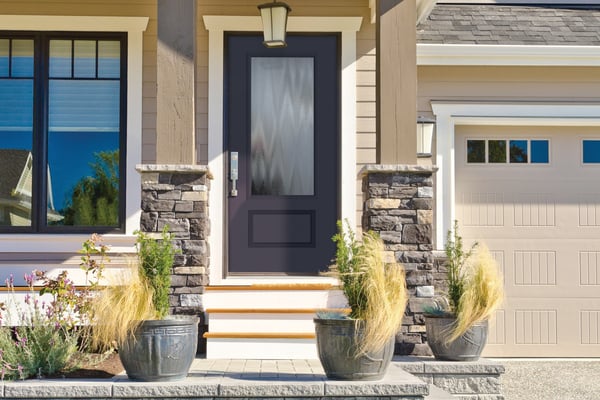 Complimenting the architectural design of your home in the decor in your front entryway can be a great way to create a consistent look across the interior and exterior of your home. The flower boxes, planters, lighting fixtures, statues, and furniture on your front porch can all reflect the architecture that will be found inside. Even the trim around your door or windows can help emphasize the house design.
9. Refresh Your Portico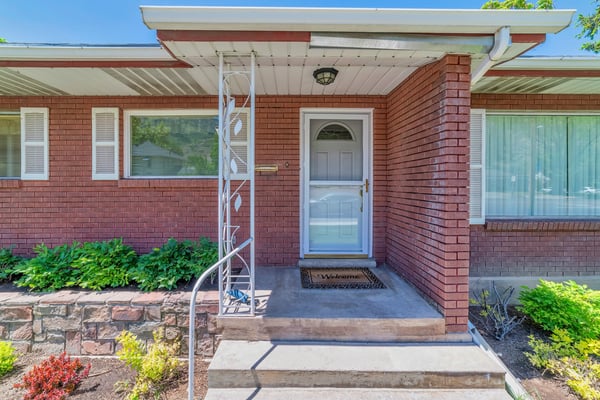 The overhang above your front door can be refreshed and updated in order to bring out some more charm in your home. A fresh coat of paint is a great way to update the look of your portico or awning, and adding decorative trim can take it to the next level. If you don't have an overhang above your front door, you could even consider adding one to help your entryway stand out and add some shade and protection to the front door.
10. Showcase Your Style with Decorative Doorglass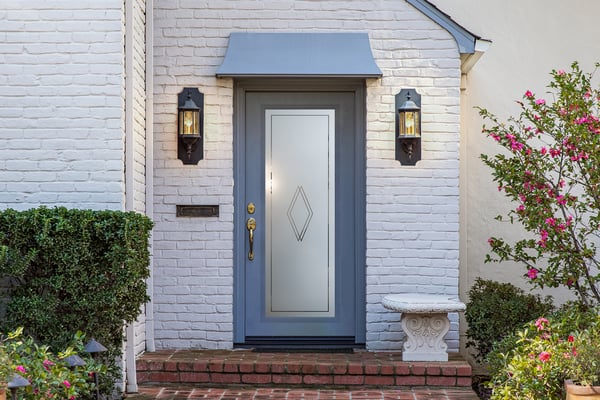 Decorative doorglass can do a number of great things for your home. It allows natural light to come in while protecting your privacy, and it adds beauty and aesthetics to your front door. Decorative doorglass comes in a wide number of styles, layouts, colors and patterns, so you can always find something that fits in with your entryway and helps it stand out.
If you are interested in learning more about decorative doorglass from ODL, then check out our decorative doorglass collections and see what options might be best to add some interest to your front door and make your front entryway pop.