EDIT: We've extended our gift card drawing through Monday, May 18!
Whether you're stuck at home or still reporting to work to help others, one thing we can all use a little more of is brightness. Our products brighten homes by bringing in light, so we do a lot of thinking about doors and windows and the power they have to make your life a little better.
We Make Your Life Better™ is our purpose statement because we believe that everyone has the ability and the responsibility to make a positive impact on the people they interact with every day. And spiffing up your entryway, while not exactly life-altering, is a great way to say hello to your community in an era of social distancing.
So here's our challenge to you: decorate your front door, porch, entryway - whatever you can see from the sidewalk - in a way that brightens up your community and brings a smile to you, your family, and your neighbors. Get the whole family involved for a boredom-busting activity! Then, post a picture of your creation with the hashtag #BrightenYourDoorstep and tag us on Facebook (@ODL, Inc) or Twitter (@ODL_Doorglass). From now until Monday, May 18 (edited 5/4/20), you'll be entered to win one of four gift cards to a food delivery service of your choice (Grubhub, UberEats, Doordash, or Postmates) as a thank you from us.
Are you game? Here's a few ideas to get the creativity flowing.
1. Create a work of art on glass surfaces
Glass is the perfect surface for creating temporary works of art. If you've got an entry door with glass, a patio door or even a window, you've got a canvas. Start by cleaning the glass with your favorite glass cleaner and a soft cloth, then go to town once it dries.
On a clear piece of glass, try your hand at the popular mosaic art trend. To create your mosaic on glass, all you need is some painters tape and erasable markers or acrylic paint to create stunning designs on your doorglass, window or storm door. Add a drop of dish soap to your paint before applying for easy clean-up.
Or, if you have a piece of camed (also known as leaded) decorative glass in your door, try filling in the shapes, paint-by-numbers style. We hear from the experts that adding color to your doorglass is in right now!
In addition to acrylic paint and erasable markers, you can also use other art supplies for drawing on glass like chalk markers and paint markers. Just be sure that whatever you're using is easy to clean, or you may end up with a permanent colorful design.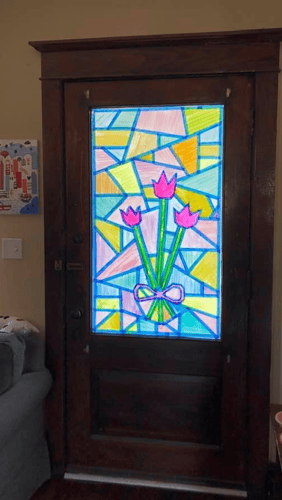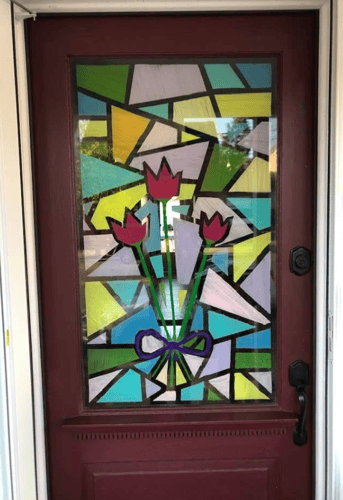 2. Break out the holiday decorations
Right now, there's no such thing as out of season. Put those boxes of Christmas, Halloween and Valentine's decorations to good use to put your neighborhood in a celebratory mood. Garlands, wreaths, and string lights are easy to hang and change out. Doormats, signs and flags send cheery messages - and if it's not quite the right month, it's the thought that counts!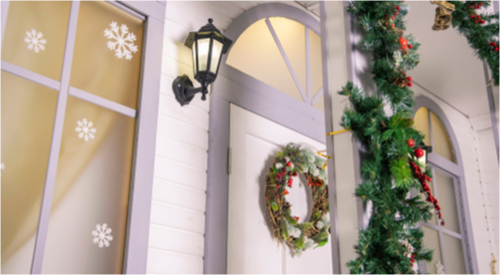 3. Make paper "snowflakes"
Paper snowflakes are a great craft that you can create with just paper and scissors. If you want to make your own designs, fold a square piece of paper and draw shapes that you can cut from the edges. Make sure you help your little ones and ensure they're being safe with scissors.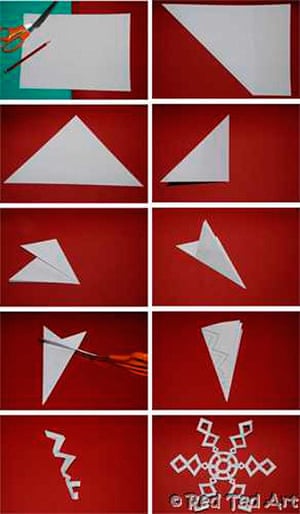 Headquartered in Michigan, some ODL employees can get a little touchy about out-of-season snow. If you'd rather skip the snowflakes, there are lots of other paper cutting designs that you can create and display. Try making paper chains, hearts, stars and flowers. Also known as kirigami, there are lots of free resources like video tutorials and printable patterns online. Here are a few you can check out:
4. Send a positive message
It can be difficult to stay social when you're practicing social distancing. People are finding new ways to stay connected, like Zoom meetings, and rediscovering some others, like lengthy phone calls and chance encounters on the street. You may not be talking to your neighbors as often as you were a few months ago, but that doesn't mean you can't let them know you've got them in your thoughts.
Use sticky notes, handmade signs and banners to share a message of hope. Let people know you're looking forward to summer get-togethers, or share a simple "Hang in there!" Try leaving a joke or riddle to engage people walking around your neighborhood.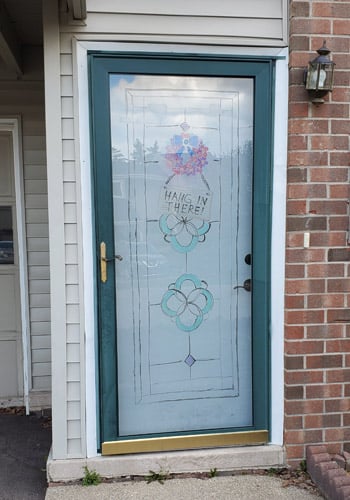 During a time where we're being asked to stay home and social distance, it's important to remember that we're all in this together. We hope that #BrightenYourDoorstep can bring some joy to you and your community. Remember to share your projects with us on Facebook and Twitter and include the hashtag #BrightenYourDoorstep to be entered to win an extra thank you, and thanks in advance for making your communities' lives better!
Terms:
Enter between April 16 and May 18, 2020 by posting a picture of your creative entry on Facebook or Twitter. To qualify for the $25 food delivery service gift card drawing, posts must include the hashtag #BrightenYourDoorstep and tag the ODL, Inc account (@ODL, Inc on Facebook and @ODL_Doorglass on Twitter.) Winners may choose between UberEats, Grubhub, Postmates, and Doordash.
By entering, you give ODL, Inc. the permission to share your picture without personally identifying information on company social media channels and ODL, Inc. brand websites.