It can be tougher to keep up with home design trends than fashion trends. Planning and implementing a remodel, even if it's just cosmetic updates, is typically more time consuming than running out to the mall (or faster yet, clicking "buy now") for a new pair of shoes. In addition to costing you time, a modernized home can also be costly on your wallet. According to this Real Simple article, a fresh coat of paint on your home's exterior can cost $3,000 and a bathroom overhaul can set you back $15,000!
But modernizing your home doesn't have to cost you an arm and a leg. In fact, there are plenty of ways to keep your home on-trend without breaking the bank to do so. As a doorglass manufacturer with nearly 80 years of experience, we know a thing or two about how trends in home design — and entryways in particular — can change. We also know how to keep up with these changes without putting undue financial strain on ourselves or our customers. Keep reading to learn about our favorite ways to modernize your entryway on a budget.
Swap out antiquated, solid doors for decorative or privacy doorglass.
Solid, window-less doors have their place in architectural history but scream "medieval times" more than "modern home." Most of today's entry doors feature door lights in some capacity, be it a small, divided Craftsman-style window or a full-length door light to welcome guests and introduce natural light into the home. Switching your solid front door for one with a fun design or door light style can be one of the simplest ways to modernize your entryway.
Our Dialogue Layered Glass™, for example, plays on light and movement to create dynamic interactions between layers of patterned glass. Another ODL option, our Spotlights® doorglass, incorporates thoughtfully-placed rectangular or square door lights to appeal to contemporary design tastes. An added bonus? Both of these, and many more of our doorglass styles, offer dynamic privacy ranges so you can let light in without sacrificing your security.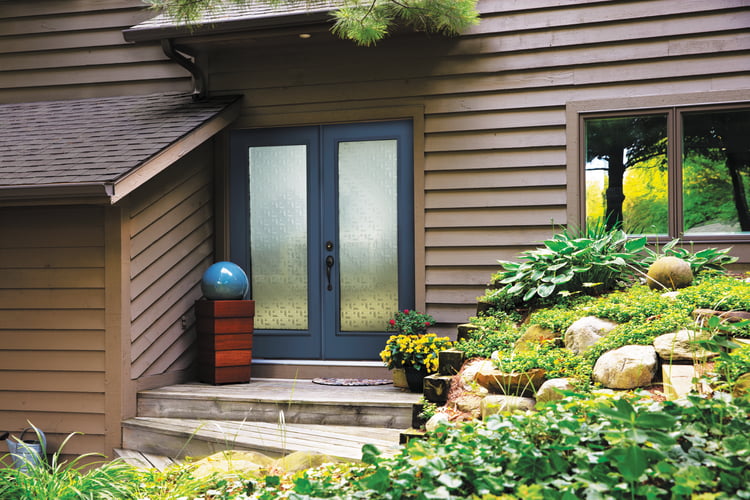 Add a modern doorglass frame.
When it comes to entry doors, modern homeowners tend to opt for simple over ornate. This preference extends to the doorglass frame as well, with increased demand for simple, flat-profile frames that sit flush to the door. With this in mind, we created ZEEL™, a modern, flat-profile frame that installs using an innovative clip system. The clip system features precise adjustment capabilities to help it fit despite imperfections in the door, resulting in a clean, flush-to-door look that reduces installation time and effort by up to 25 percent. That means cost savings for you and an updated entryway!
Upgrade your lighting.
As far as home design elements go, lighting fixtures can be surprisingly affordable, depending on where you look. Plus, you'll be amazed by what swapping your outdated flush-mounted lights for chic hanging lanterns or industrial sconces can do for your home's modern aesthetic.
Add an accent color.
We've already warned you that exterior paint jobs can set you back a few thousand dollars, but that doesn't mean you need to steer clear of paint altogether. Adding a strategic, eye-catching pop of color to your entryway is a great way to make it stand out without crossing "over the top" territory. Many modern homeowners incorporate accent colors to bring a contemporary liveliness to their homes — now might be the perfect time to go for that electric-blue front door! Just remember that less is more when it comes to bold, bright colors. Being the Barbie-pink home in a cul-de-sac of beige gets old fast, so keeping it subtle will keep your neighbors happy and save you money on supplies.
Renumber.
OK, don't actually try to change your house number (we're pretty sure there are legal repercussions there), but replacing or painting the cookie-cutter numbers your house came with is quick, easy and wallet-friendly. Hardware stores and craft stores offer block numbers that often cost less than $5 each — and a can of spray paint will cost you even less. To find numbers with a more funky design, texture or pattern, try venturing outside of the retail store box to online craft shops, such as Etsy.com.
There's no right or wrong way to modernize a home. The changes you make to your entryway will depend entirely on your budget, design priorities and taste. Making it meet your idea of modern might call for a cosmetic change or could require a total overhaul of your home's façade. In addition to the tips we shared above, there are many more ways you can get creative to cut costs and modernize your entryway in budget-friendly style.