ODL, Inc. (ODL), a leading building products supplier of decorative and clear doorglass and entry treatments, introduces modern bar configurations and new Black and two-tone Bronze/White colors for its Grilles Between Glass (GBG) product line.
GBGs mimic the appearance of divided light doors but give homeowners the same aesthetic via a simplified manufacturing process. The grilles, or dividers, are housed within two panes of glass.
GBG options from ODL are available in standard 5/8" flat grille or wide 7/8" flat grille in six distinct finishes — White, Tan, Champagne, Black, Bronze and two-tone with a Bronze exterior and White interior. The Black and two-tone finishes — new to ODL's product line up — were created to meet customer demand for on-trend color options that best complement today's most popular architectural styles, including Urban Loft and Modern Farmhouse. In these styles, the use of divided light in windows has paved the way for doors to follow the same trend.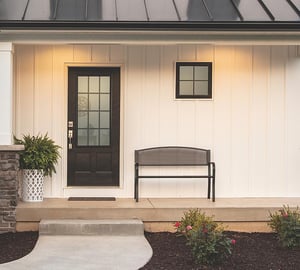 Doors using GBGs in Black evoke the industrial look that is characteristic of restored, Urban Loft-style apartments. The two-tone Bronze/White GBGs satisfy the rustic, yet clean look common in Modern Farmhouse design, which often includes a primarily white aesthetic with bronze or copper accents.
GBGs from ODL are also now available in several bar configurations to complement a range of architectural trends by drawing from elements of classic architectural styles, as well as newer industry trends. The rise in popularity of horizontal grilles within doorglass came from homeowners who desired the divided light look but wanted larger lights and fewer bars. This translated from windows to doors, particularly in Urban Loft and Modern Farmhouse architectural styles.
"Our offerings include many configurations, sizes and even different styles of grilles to appeal to today's homeowners, who appreciate the ease of maintenance offered by housing the grilles between two panes of glass," says Amanda Fowler, national marketing manager for ODL Pro Channel. "The variety of our product lines means the divided-light look can be achieved in nearly any architectural style, whether paying homage to a more classic style, or keeping in line with the latest trends in home design."
Homeowners can benefit from GBG products in the form of simplified maintenance, as the two solid panes of glass are easier to clean than multiple small panes and simpler — and more cost-effective — to replace if the doorglass is shattered.
ODL offers its collection of GBG styles in a wide range of sizes, including half light (22"x36"), three-quarter light (22"x48") and full light (14", 20" or 22"x64" or 80") dimensions. Side light glass options are available for 7" or 8"x36", 48", 64" or 80" and can feature 2-6 lights. All configurations are available in energy efficient Low-E doorglass, which helps meet ENERGY STAR®requirements when used with an ENERGY STAR qualified door or sidelight.
GBGs from ODL are available in the ODL Evolve®frame, an injection-molded frame made in FiberPro®material to provide superior rigidity and utilizing a dry-foam sealant which eliminates messy ooze-out common in wet glazes and provides high-quality application. The latest innovations to Evolve simplify installation and make the frame less likely to warp or separate from the glass over time. Evolve frame options for GBGs include a maintenance-free White frame and a paintable/stainable Oak frame.
For more information about ODL Grilles Between Glass styles, and detailed product sizes, visit odl.com.