ODL, Inc. (ODL), a leader in frame-and-seal technology, has committed to eliminating the use of wet glaze in their frame-and-seal products within the next few years. They are proud to introduce Resolve® sealant, a foam seal that offers high-quality application and superior long-term performance when compared to traditional glazing methods.
Resolve is the result of a state-of-the-art automated application process that creates a one-part thermoset foam seal. Currently, Resolve is used in the decorative doorglass category of products made by ODL. The pliable material is easy to work with and even allows for repositioning during installation. Dry sealants also avoid the inconsistency and messiness that often come with wet glaze applications.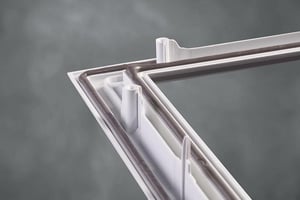 "Our goal is to eliminate all use of wet glaze in our product applications," said Amanda Fowler, national marketing manager for ODL Pro Channel. "There are myriad benefits associated with using a dry, foam sealant over a wet one. We consider this to be an innovative and superior approach that our customers can depend on."
Benefits of using Resolve include:
Easier and more successful doorglass installation
Elimination of messy "ooze-out," resulting in a cleaner working area and finished product
Efficient pre-finishing process
Fewer service calls and warranty issues
The technology is air and water resistant due to its uniform bead size and continuous-layer application. It won't degrade over time and through changing climate conditions, and does not have a sticky element to attract dirt and grime.
Additionally, Resolve seals are reusable. The entire frame won't need to be replaced if the doorglass is damaged or no longer usable. This factor, along with consistent application and the quality of the product, means fewer warranty claims and maintenance needs for consumers.