ODL, Inc.(ODL), a leading building products supplier of decorative and clear door glass and entry treatments,has introduced a new modern look, flat profile doorframe to house its Severe Weather Door Glass.
The new Severe Weather Flat Profile Frame offers the same strength and quality customers have come to expect from the Severe Weather Collection, which is designed to be watertight and withstand hurricane-speed winds and extreme force. Severe Weather products meet Florida Severe Weather requirements, with design pressures (or wind loads) of 66+. The flat and low 3/8" profile of this aluminum frame allows for a wider range of architectural applications than previous models.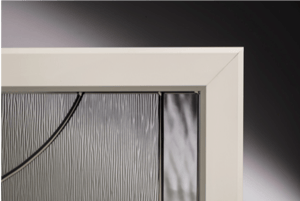 "We created the flat profile frame based on customer feedback demanding a flat, contemporary frame surrounding their Severe Weather Door Glass," says Amanda Fowler, national marketing manager, Pro Channel at ODL. "Severe Weather products need to have a frame to withstand high winds and force. The modern styling is the closest you can get to a frameless door with severe weather protection."
The Severe Weather Flat Profile Frame includes 2" long screws, increased by a ¼" from previous models, that reduce the potential for them to be striped out of the material. Additionally, flat screw hole covers are completely flush to the frame when installed.
This powder-coated aluminum frame requires no finishing and is designed for added strength and security of the exterior entry door. The frame comes from the factory coated in a white paint that meets AAMA 2604 (a specification for coatings to provide good color, gloss retention, hardness and abrasion resistance) and salt spray requirements. It can also be painted in alternate colors, if desired, after a simple cleaning with denatured alcohol and scuffing with abrasive paper so the gloss is removed and only the white powder coat remains. From there, any brand and color of paint can be applied.
The Severe Weather Flat Profile Frame is available in 13 varied size options, including four new dimensions that give it an even wider range of application opportunities.
For more information, visit ODL's Severe Weather Frame webpage.