ODL, Inc.(ODL), a leading building products supplier of decorative and clear door glass and entry treatments,introduces Dialogue Layered Glass, an innovative line of designer decorative and privacy doorglass that offers subtle beauty with a surprising twist.
Named for its interactive design, Dialogue takes on a personality of its own as layers of glass interact with one another, with light and with movement. Each pattern is created by printing subtle designs on interior layers of the insulated door glass, which adds dimension to the pattern.
The Dialogue line was developed in collaboration with Observatory Studio, a Providence, Rhode Island design firm that works closely with other brands in the design industry, including the famed Rhode Island School of Design. The firm's principals, Ayako Takase and Cutter Hutton, were tasked with creating dynamic doorglass designs that compliment a range of architectural styles and design aesthetics.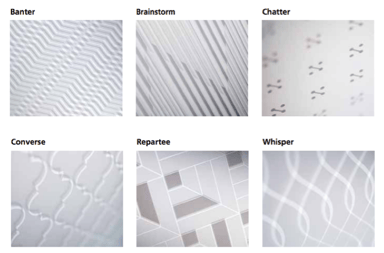 Each of the six ceramic frit patterns change form and move depending on the amount of light coming through and depending upon the viewer's vantage point. The patterns are said to interact because of the way they seemingly come to life with changes in light and movement, revealing shapes and dancing shadows that engage in a dialogue with the various layers of doorglass and with the surrounding architecture of the home.
Dialogue patterns include:
Banter– a small-scale pattern of overlapping diagonal lines, which create a woven design that zigzags across the layers of doorglass. From a distance, the fine, threadlike lines give an illusion of a fully frosted glass.
Brainstorm– an exterior vertical pattern couples with an interior chevron motif to appeal to both mid-modern and modern design sensibilities. Brainstorm's appearance is both subtle and substantial.
Chatter– a repetitive pattern of dots and lines makes this design read more like a texture. The shadow effect gives this doorglass a playful aesthetic.
Converse

– a stencil design that hints of keyhole arches, commonly found in Moroccan architecture, at first appears to be cut glass. The clear and frosted glass layers interact to create striking shadows and a high privacy range.
Repartee– frosted layers combine with a geometric grid of shapes to create a lively interaction that changes with light amount and vantage point. The design plays with both movement and opacity.
Whisper– scrolled patterns introduce the refined and graceful qualities of calligraphy to doorglass. A play between frosted and clear glass layers creates gentle, quiet movement.
"We are thrilled to collaborate with Observatory on the launch of Dialogue Layered Glass," said Amanda Fowler, national marketing manager, Pro Channel at ODL. "The designs serve two purposes: a privacy element gives the glass a sense of utility; and the unique shadows emitted from the patterns and translucency of the glass make it an engaging and striking design element. It is as beautiful as it is practical."
Dialogue Layered Glass also responds to homeowners' requests for privacy in doorglass solutions. The six translucent patterns offer dynamic privacy levels which change based on light and proximity and range from a moderate 3-5 to a high 8-9 on the privacy level scale.
Dialogue complements a range of architectural styles and design aesthetics for both high-end residential and commercial applications. Additionally, the glass is available in 11 sizes, nine of which are also available as Severe Weather glass designed specifically for hurricane-prone or high-wind areas.
For more information, visit the Dialogue webpage.