ODL, Inc.(ODL), a leading building products supplier of decorative and clear doorglass and entry treatments, introduces Salix, the latest addition of contemporary style doorglass.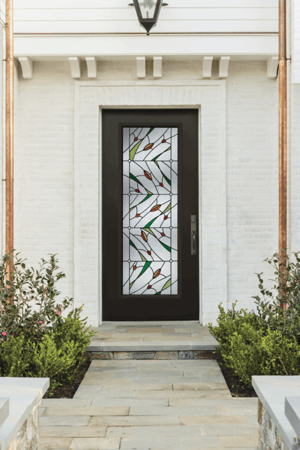 Salix, which is the Latin or botanical name for willow, brings nature to the heart of the entryway. Salix has clear single faceted jewels along the sides of the doorlight and the streamed glass gives Salix its high privacy rating. Chartreuse marble glass and emerald green rain glass provide the foliage while light and dark amber glass create the newly opened willow. Ruby red softwave represents the red outer scale before the willow pops open. This is all set in place with dark patina caming purposefully selected because it is a popular finish in hardware. Although this is a modern design, it's simple enough to pair well with any type of home exterior, from brick and stone to siding and shiplap.
"The intention was to design Salix to be timeless with clean lines and subtle pops of color," says Katie Sponseller, Corporate Decorative Glass Designer at ODL, Inc."I love knowing that people will be bringing these designs into their homes and will appreciate the design as much as I do."
Salix is available now in four different frames including ZEEL®, ODL's most versatile doorglass frame, and the Severe Weather frame for hurricane-rated doors. It is offered in a range of popular doorglass and sidelight sizes.
For more information, and to view more about this decorative doorglass, visit odl.com/salix.