The drive to achieve the perfect design and aesthetic can sometimes overpower considerations of quality and durability. Curb appeal can take priority over product lifespan, and the desire for instant gratification can prevail over a passion for long-term performance.
With this in mind, we set our sights on engineering a doorglass frame product that is as visually pleasing, flexible and design-friendly as it is durable. The cherry on top? The frame also cuts installation time and effort by 25 percent — there's your (nearly) instant gratification. Allow us to introduce you to ZEEL™.
Meet ZEEL
ZEEL is a doorglass frame that achieves the same visual appeal as a frameless flush-glazed door but uses an innovative clipping system instead of screws. What sets this framing product apart from other screwless frames, which typically have preset adjustment capabilities that struggle to accommodate slight imperfections in door manufacturing, ZEEL enables precise adjustment, so it sits flush on any entry door. The result? A flat-profile doorglass frame that meets modern, minimalistic design tastes.
ZEEL's simplistic aesthetic allows your doorglass — whether decorative, textured or divided light — to be the star of your entryway. But "simplistic" is not synonymous with "cheaply made" or "flimsy." In fact, ZEEL was thoughtfully engineered using several components that add to its strength and durability against environmental threats or wear-and-tear. One of these components is ODL's patented FiberMate Plus™ material, our most durable yet.
FiberMate Plus is resilient against extreme weather conditions. It resists scalloping and warping even in direct sunlight or when installed in hot climates. Better yet for homeowners, the material maintains that same resiliency when painted or stained, even with dark colors. This answers homeowner demands for a doorglass frame that they can customize to match surrounding décor without losing its endurance.
Forget What You Thought You Knew About Painting or Staining
As the homeowner, the decision to paint or stain a doorglass frame a certain color is entirely yours. We've seen that many homeowners enjoy the ability to more precisely match their frame to surrounding décor or better fit their aesthetic vision through the use of colors they might not have considered previously.
For example, we used to rarely see dark-colored finishes in areas with high temperatures or a lot of sun exposure. That's because old doorglass frames were commonly made of wood and were prone to warping in high heat. Dark colors would absorb heat more quickly, leading to more rapid damage and therefore shortening the lifespan of the product.
The FiberMate Plus material is engineered to resist that environmental wear and tear and stand strong against high temperatures, severe weather and other climate obstacles. So, go forth and paint with confidence!
The Painting and Staining Process
While the ZEEL frame can certainly be left unpainted, we're proud to be able to give you the option to paint or stain it depending on your preferences. When it comes to painting or staining a doorglass frame, however, many homeowners are unsure about where to begin.
To start, be sure to use the same high-quality exterior grade paint or stain that you use to finish the entry door itself. This will ensure a consistent finish across the door and even fading due to normal wear-and-tear. Once you've selected the right color and type of finish – glossy, semi-glossy or matte – follow these simple steps to paint your ZEEL frame:
Prep the frame surface – use a mild detergent mixed with water to wipe the frame free of dust and debris. Wait for it to dry and acclimate to room temperature before applying the paint.
If you are painting – apply thin coats, allowing the paint to dry between coats until the desired coverage and finish is achieved. We recommend using exterior latex paints.
If you are staining – we suggest a two-step process to achieve the most desirable level of adhesion when staining. First, apply an opaque base coat of paint to the frame, as described above. Next, apply the stain, using a sponge or cloth to work the stain into the graining of the frame. Make sure to wipe off excess stain for your desired finish and adhere to the stain's instructions, which often differ between manufacturers. Many manufacturers recommend applying a clear topcoat, too. We also encourage doing so to protect your frame's finish.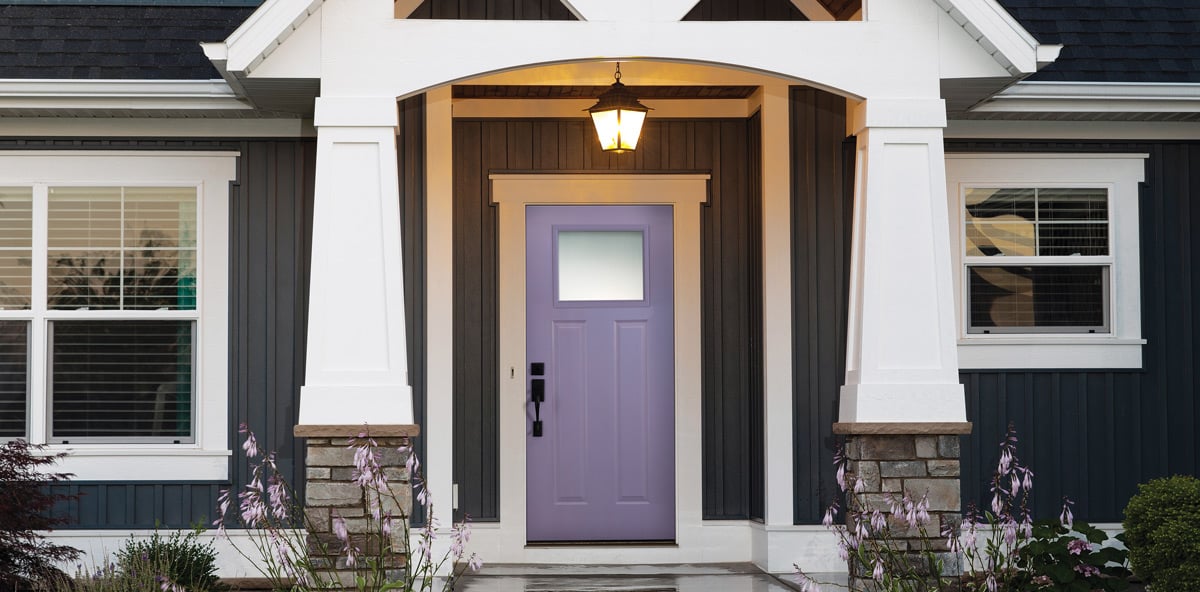 It's vital to keep in mind that these are the recommended steps for ZEEL and other frames that use FiberMate Plus material. ODL offers a variety of framing products in different finishes that have unique needs and recommend using different types of paint. Finishing instructions for our various framing products can be found here.
Whether you're painting or staining your doorglass frame to meet a particular design vision, or just sprucing up your curb appeal with a fresh coat, your ODL frame will look great in the short and long term no matter what color you choose!
For more information on ZEEL, visit https://zeel.odl.com/.