Protecting and sustaining our environment is an important part of being a responsible citizen. Earth-friendly design allows us to respect the organic environment around us while also enjoying some of the beauty that nature provides. While there are specific holidays like Earth Day that help us keep environmentally-friendly practices in mind, there are many other ways to respect the environment and appreciate the beauty of it every day of the year.
Biophilic design is one way in which we can embrace eco-friendly and biodiverse practices while receiving many aesthetic and energy-saving benefits. As a homeowner, you want to find ways to reduce your costs while also working towards building a better world for your family. Let's dive deeper into biophilic design and learn about how you can incorporate it into your home.
What is Biophilic Design?
Biophilic design is the practice of connecting people and nature within architecture and buildings where environments and communities come together. It's meant to strengthen the connection we have to the natural world by reflecting elements of nature in building design and architecture. It helps to decrease the carbon footprint that comes from building development and improve our health and well-being by tapping into our innate desire for connecting to nature.
Types of biophilic designs can range dramatically, from entire buildings designed in natural shapes using biodegradable materials to adding some more houseplants into your home. No matter the size of the project, however, the goals remain the same. That means that embracing biophilic design can be done by anyone and in any type of home.
5 Ways to Use Earth-Friendly Design in Your Home
Most homeowners can't completely redesign their homes to create groundbreaking biophilic architecture, but there are ways that you can incorporate aesthetic and biophilic designs into your home as it is now. Let's take a look at five ways you can adopt biophilic practices within your home today to receive the stylistic benefits.
1. Water Features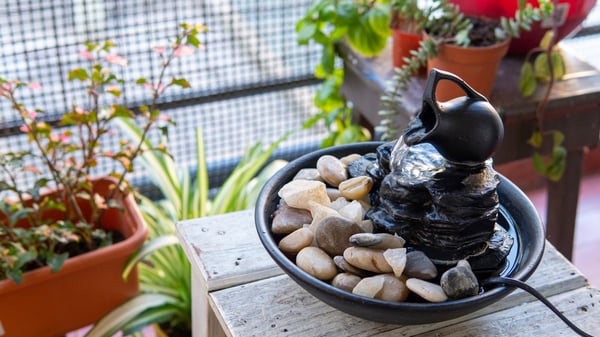 Fountains, indoor waterfalls, and other water features are all examples of biophilic design that connects us to water. The sound of water can be very relaxing and help increase feelings of ease and contentment. Water also is an important element of nature and life, so finding ways to bring in indoors strengthens the connection we have with it.
2. Greenery
One of the best parts of nature is the beautiful greenery and plant life that it provides. Bringing that greenery inside helps remind us of the nature around us and can help us feel more calm and happy overall. Whether you want to start an indoor flower garden, create a living wall of plant life, or just add in a few more plants to your home, greenery is one of the easiest ways to bring the outdoors in.
3. Natural Materials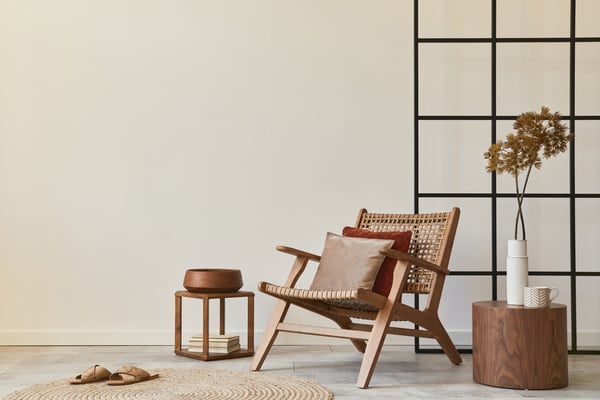 Another important element of biophilic design is the types of materials and components that are used in architecture and home decor. Materials like wood, stone, and natural fibers can be used to create a more sustainable and biophilic atmosphere, especially over plastics and man-made metals. Even if you don't have many natural materials in the build of your home, decor items and furniture that use natural materials can help strengthen the connection to nature.
4. Natural Patterns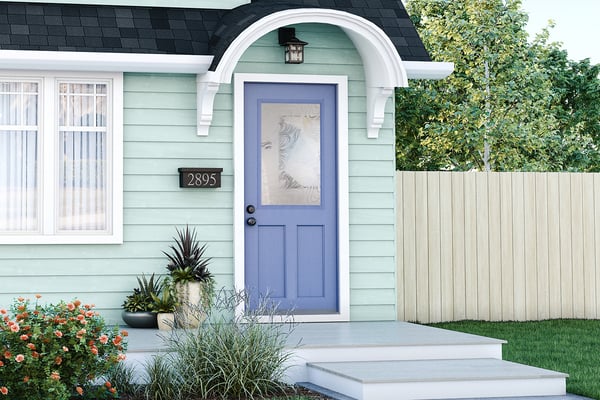 Biophilic design goes far beyond what we might think of on the surface level. Not only are the materials and decor we chose important for connecting us to nature, but the shapes and patterns we incorporate into our home designs have an impact as well. Natural shapes like honeycomb, curves, or fractals remind us of nature and can help us reconnect to the natural world rather than the sharp lines of traditional building design.
5. Natural Light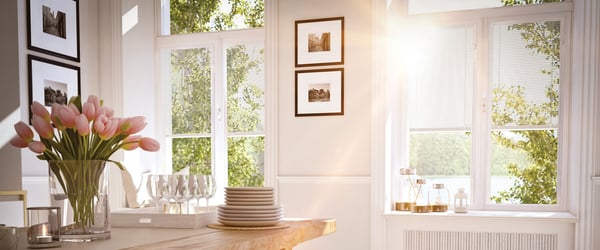 Light is another powerful natural element that we should embrace in our homes. Not only does light improve our moods and help us get our important vitamins, but it also can save us money within the home. When we use natural light over artificial light, we can reduce our energy bills as well as the strain on the environment to produce power and electricity to our homes. Skylights, energy-efficient windows, and doorglass can help us let the natural light shine in our homes.
Connect to Nature with ODL Glass
At ODL, we are happy to help our customers connect more with nature through our doorglass designs. Our doorglass comes in patterns like Celebration Earth and Ocean that can visually remind us of the natural world while providing privacy benefits that connect you with biophilic design. To learn more about the Celebration doorglass design, click on the link below.